Experiences beside academia that shape the way I think
I have been thinking about the combination of information technology and plant for a long time. I am hesitant to use "entrepreneur" to describe because this word had beed misused a lot. To be specific, I built teams and developed products that aims to help farmers and educate the gardeners. These products received awards in hackathon and startup competitions and even attracted venture captalists. However, I knew that I reached my own limitation at that time unless gaining more solid knowledge and other experience or I would burn out very soon. That is why I quited all projects and turned into graduate studies. These experiences actually heavily influenced how I perceived the world, the way I work in academia.
Open Data Dr. Plant (植醫爸)
Quality Award, Open Data Innovative Application Contest.
Industrial Development Bureau, Ministry of Economic Affairs, ROC (Taiwan). Council of Agriculture, Executive Yuan, Republic of China (Taiwan). December 2017
Built a team with specialists of designing, programming and mass communication
Developed the world's first Chinese chatbot aims to solve plant diseases and pests problems of customers, using open data supported by Council of Agriculture
Accomplished business verification and pitched to venture capitalists
Facebook page: https://www.facebook.com/openDataDrPlant
Veggies finding home (蔬果找主人)
Council of Agriculture Enterprise Prize, HackNTU 2017 (Hackathon of NTU 2017).
National Taiwan University. August 2017
Led the team and developed a chatbot helping small farmers to sell rest products
Facebook page: https://www.facebook.com/VegetableFindHome/
Veggies on the roof (屋啥菜)
Third Prize, Agrithon (Agriculture Hackathon)
Council of Agriculture, Executive Yuan, Republic of China (Taiwan). August 2016
Led the team and developed a social platform for rooftop gardening participants
Press: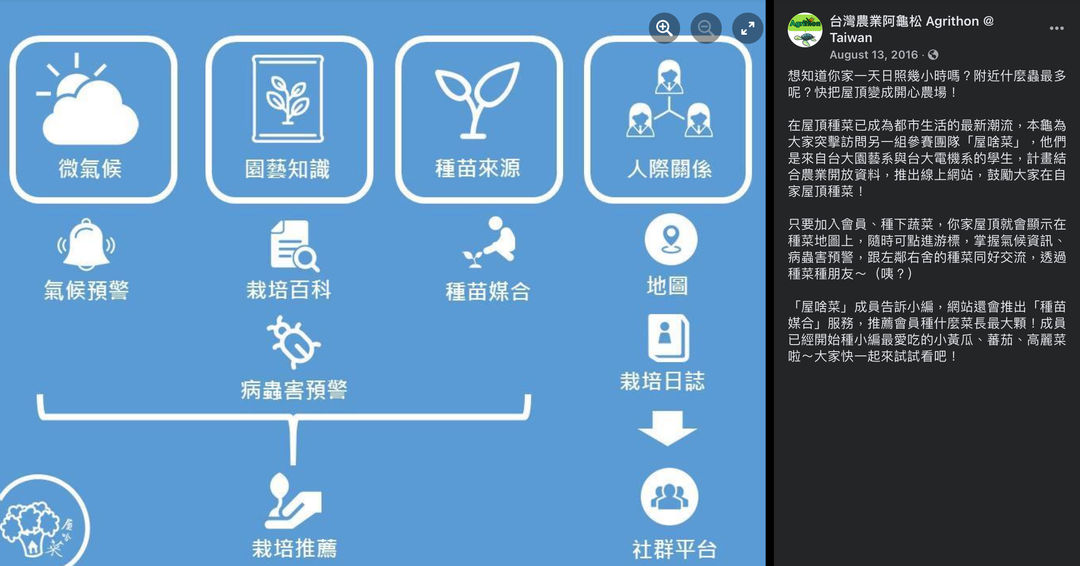 https://www.facebook.com/AgrithonTaiwan/photos/a.1038671712834814.1073741828.1027776160591036/1102899563078695/?type=3&theater
Here is one of my teammate's blog about this competition (in Chinese):
https://srj0219.wixsite.com/rogersiao/single-post/2015/07/19/el-camino-antiguo-en-taip%C3%A9i